Timing, capacity and range
The future market for large aircraft appears to be crystallising into three distinct phases :
Phase 1.
There are airlines with urgent requirements which could be met by a 747-500 Full Upper Deck, such as JAL (domestic routes) , KAL (routes to Japan) and CPA and QFA (both regional networks). In all cases the timescale is substantially ahead of any UHCA availability.
Phase 2.
There is a strong requirement for a bigger aircraft -approximately 600 seats – around the turn of the century. This is represented by the shaded area "Requirement A" on the payload-range chart overleaf. This would encompass the domestic network requirements of ANA and JAS and the regional needs of JAL and SIA, while coming close (in terms of size) to those of KAL and UAL.
The most critical range requirement is around 4500 nm (JAS and SIA regional routes).
Phase 3.
There is a group of requirements for higher capacity aircraft (around 800 seats) which could be a stretched version of the same aircraft transporting a higher payload over a shorter range. This is shown by the shaded area "Requirement B" on the chart, meeting the domestic requirements of JAL and the regional needs of CPA and QFA, whereas CPA's intercontinental requirements fall outside.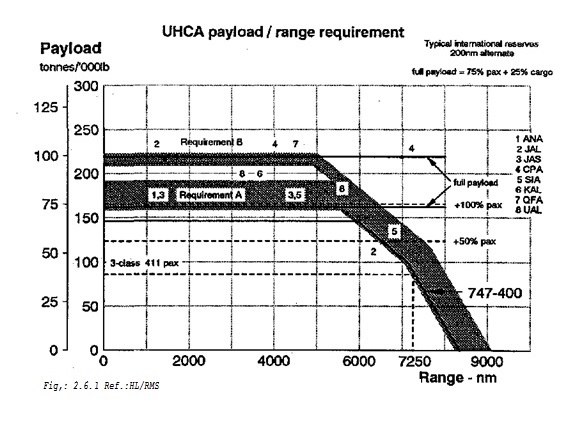 Fig,: 2.6.1 Ref.:HL/RMS
Seating standards
The datum of 747 standards was generally accepted.
First class should have 57 inch double seats at 60/62 inch pitch with 34 inch aisles ; single seats would be acceptable (preferably next to a sidewall) but triples would not.
Business class should be in 53 inch doubles at 38/40 inch pitch and 26 inch aisles; triples would be acceptable in limited numbers.
Economy class should match 767/777 comfort standards, namely 42/43 inch doubles and 62/63.5 inch triples at 32 inch pitch with 19 inch aisle width; quadruples would be acceptable, 5 abreast not desirable and 6 abreast not acceptable.
No strong trend towards modifying the number of classes was identified, although regional services in Asia/Pacific are tending towards two class. There is a general preference for more economy seats and less business and first class seats. There should not be more than 20 to 30 seats in first class. Reconfiguration between business and economy without moving toilets or galleys was considered important to respond quickly to market demand.
Cross-section comments (600 pax)
Ovoid (DA pro-ject)
18 seats abreast (11 on the main deck plus 7 on the upper deck) provides a length of fuselage near to meeting current airport constraints.
The greater height of the lower deck was preferred as it provides more headroom for passenger utilisation, cabin crew working as well as reight 

flexibility.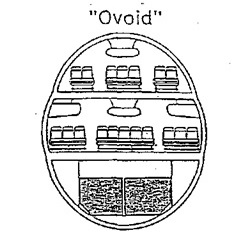 Circular (AS pro-ject)
Same remarks as ovoid regarding length and main deck seating.
Considered as having less potential 

structural problems.

Headroom in hold is not sufficient to 

allow lower deck passenger use.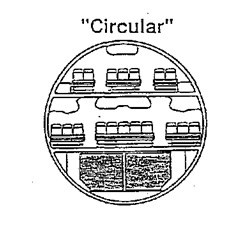 Horizontal Double Bubble
A positive aspect for the airlines is the possibility to use existing passenger loading bridges and service equipment.
Full bi-lobe underfloor volume too 

large for 25%/75% cargo/pax spilt.

Headroom in hold is currently not sufficient to allow lower deck galley 

operation or toilet installation.

Potential problem of passenger appeal due to the width of the cabin and 

the tie rods.

Some airlines were concerned with passenger evacuation problems and new regulations which may be required for cross aisles and emergency exits linked with the four longitudinal aisles. Requirement of closer pitch between doors. 

Reduction interior arrangement flexibility.

A potential major problem is the length of 

the aircraft at current airports.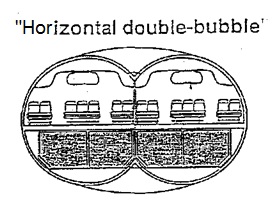 Clover-Leaf (BAe project)
Some doubts were expressed on the aerodynamic and structural behaviour of this proposal.
Main deck arrangement with 6-abreast seating units was judged unacceptable, a third aisle is necessary with the potential cross aisle penalties resulting in increased fuselage 

length.

Headroom in hold is not sufficient to allow 

lower deck passenger use.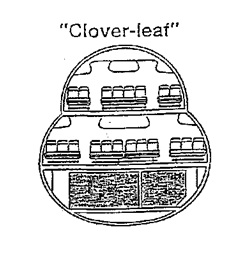 Cargo Considerations
All airlines with an agreed requirement for UHCA equipment 

considered freight capacity to be of secondary importance. 

The  aircraft  should  be  designed  around  passenger 

requirements; development of cargo on high-density routes 

will use mainly dedicated freighters. 

It is essential that the aircraft accepts all current 

pallets and containers ; it should not be designed around 

a new standard. 

Facility to carry 8×8  ft  containers is  appreciated, 

possible need to carry these containers on the main deck.
Performance Characteristics: only a limited number of responses were obtained on performance characteristics. The consolidation of these responses is as follows :
Cruise mach number should be at least B747's, Ma>0.85;
Time to climb : as short as possible, good target 20 min.;
Initial cruise altitude >31000 ft, 35000 ft is a good target;
Take-off performance not worse than 747-400.
Ramp operations
The airlines' major concern was to turn round the aircraft in the same time as a 747 (1 hour domestic, 2 hours international) . General concern was expressed about time taken for passenger loading and unloading, with various suggestions being made to alleviate the problem : for example, double deck loading bridges (loading the upper deck separately to the main deck) and loading both sides of the horizontal double bubble main deck simultaneously.
Loading galleys via the lower deck was another suggestion, using lifts to transport trolleys to the main and upper decks (loading upper deck galleys via the main deck of the 747 is established practice to which no one objects, so there is no reason why this should not be applied to twin-deck versions of UHCA).